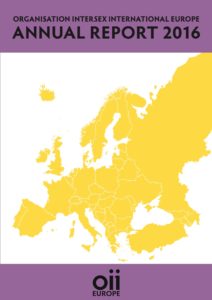 OII Europe's year of 2016 spanned a whole range of emotions; the year was exciting, exhausting, ambitious, intense, at time overwhelming but first and foremost immensely successful. Over the course of the year, OII Europe managed to reach all the goals initially set forth for the year as well as additional goals set forward as the year progressed.
On an advocacy level, we managed to strengthen and raise awareness on intersex issues with the European Commission and the European Parliament as well as member states representatives.
We furthermore managed to create an immense amount of awareness through further engagement with institutions we already had established relationships with and to engage with other organisations on various projects aimed at increasing the knowledge base for relevant stakeholders and the general public.
2016 was a wonderful year and we are looking forward to all the opportunities, excitements and hopefully successes that 2017 will bring to us.
The OII Europe Steering Board