OII Europe launches 2019 Good Practice Map: Intersex Rights Still Under Attack in Europe, But There are Good Examples
Today, 15th of June 2020, OII Europe is proud to present the Intersex Good Practice Map 2019. The Map features 8 examples of Good Practice from the areas of resolution, data collection, research, legal protection, campaigning, awareness raising, employment and funding by national governments and municipalities and the European Commission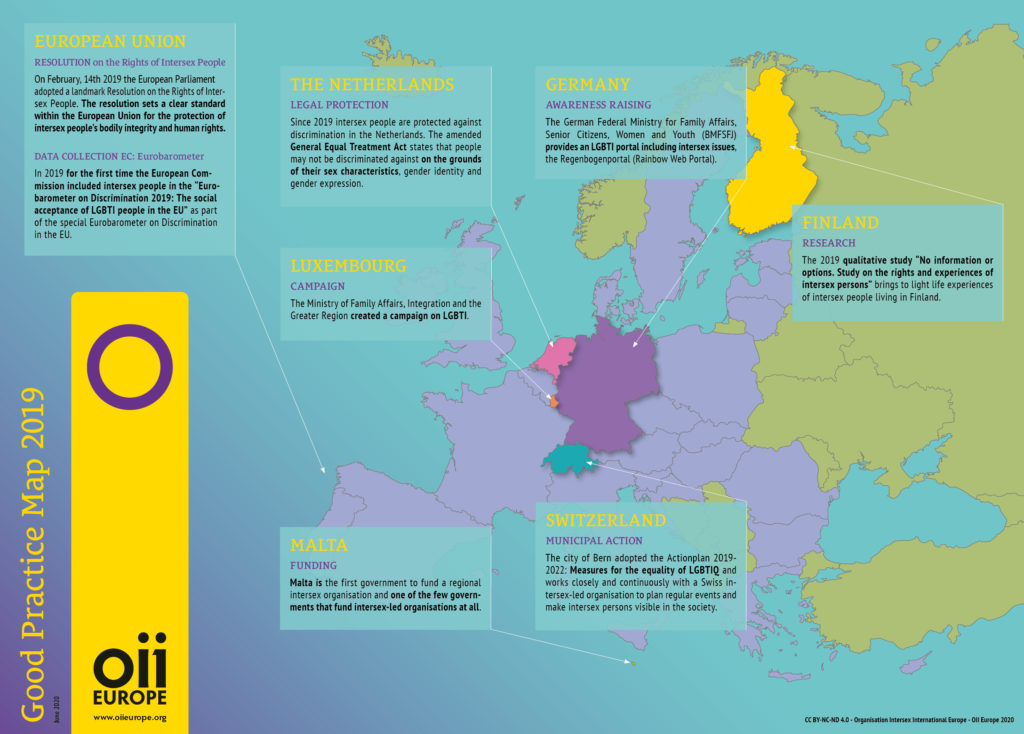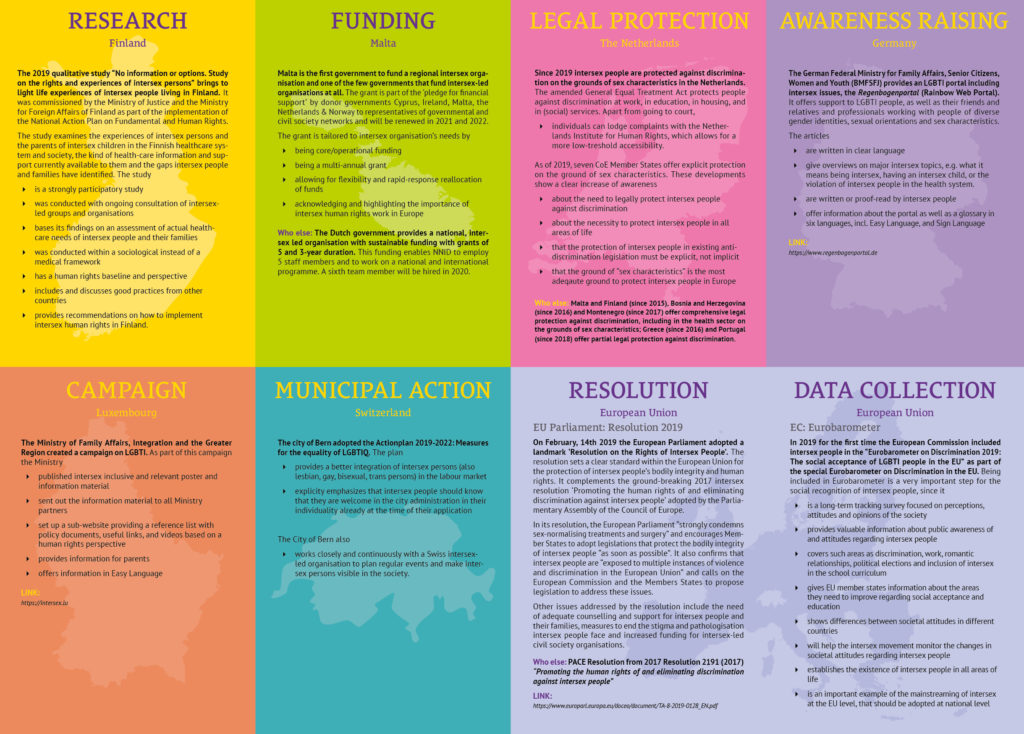 You can download the Good Practice Map 2019 as pdf below
"This is the second year we are releasing this tool, and we are delighted to see new examples of good practice to protect intersex human rights in Europe" says Miriam van der Have, Co-Chair of OII Europe. "The good practice examples featured in the map demonstrate strong cooperation between local intersex activists and policy makers, ongoing consultation of intersex-led groups and organisations in preparation of materials and a strong focus on intersex human rights. It is exciting to see how this is starting to become a standard."
"2019 has been a special year", continues Dan Christian Ghattas, Executive Director of OII Europe. "With the landmark European Parliament Resolution on the Rights of Intersex People the European Parliament has shown a clear awareness about the ongoing lack of protection of intersex people in Europe. We now need more national governments to step up. We are also looking forward to the implementation of the European Commission action points as laid down in the EU Gender Equality Strategy. We also hope that the upcoming EU LGBTI Strategy and the first time ever EU Strategy on the Rights of the Child will become landmark steps towards a comprehensive protection of intersex people in Europe."
"With intersex human rights still being violated in most countries in Europe and the worrying general setbacks for LGBTQI rights, like the adoption of Article 33 in Hungary, good practice examples are more important than ever. They are a proof of the importance and positive impact of political will on intersex people's lives. And they show the range of actions available to protect intersex people on a national, local and European level", adds Ins A Kromminga, Awareness Raising & Campaigns Officer of OII Europe.
"We encourage national governments, law and policy makers and human rights activists to explore ways on how to add to the good practice examples, how to support intersex human rights activists in their countries and how to work closely with them in order to implement the recognition of intersex human rights", concludes Irene Kuzemko, Secretary of OII Europe.
Visit our live event on FACEBOOK on Monday, June 15, 4pm or 1600 hours Central European Summer Time (CEST UTC/GMT +2 hours)
The examples included in the Map are:
European Parliament: the Resolution on the Rights of Intersex People adopted by the European Parliament on 14th 2019. The resolution sets a clear standard within the European Union for the protection of intersex people's bodily integrity and human rights.
The European Commission: "Eurobarometer on Discrimination 2019: The social acceptance of LGBTI people in the EU" survey which included intersex people in 2019 for the first time.
The Netherlands: the amended General Equal Treatment Act states that people may not be discriminated against on the grounds of their sex characteristics, gender identity and gender expression. Other countries with comprehensive or partial legal protection against discrimination are mentioned as well.
Germany: the German Federal Ministry for Family Affairs, Senior Citizens, Women and Youth (BMFSFJ) provides an LGBTI portal including intersex issues, the Regenbogenportal (Rainbow Web Portal).
Luxembourg: the Ministry of Family Affairs, Integration and the Greater Region created a campaign on LGBTI.
Switzerland: the city of Berne adopted the Actionplan 2019-2022: Measures for the equality of LGBTIQ and works closely and continuously with a Swiss intersex-led organisation to plan regular events and make intersex persons visible in the society.
Malta: Malta is the first government to fund a regional intersex organisation and one of the few governments that fund intersex-led organisations at all. The Dutch government funding an intersex organisation is mentioned as well.
Finland: the 2019 qualitative study "No information or options. Study on the rights and experiences of intersex persons" brings to light life experiences of intersex people living in Finland.