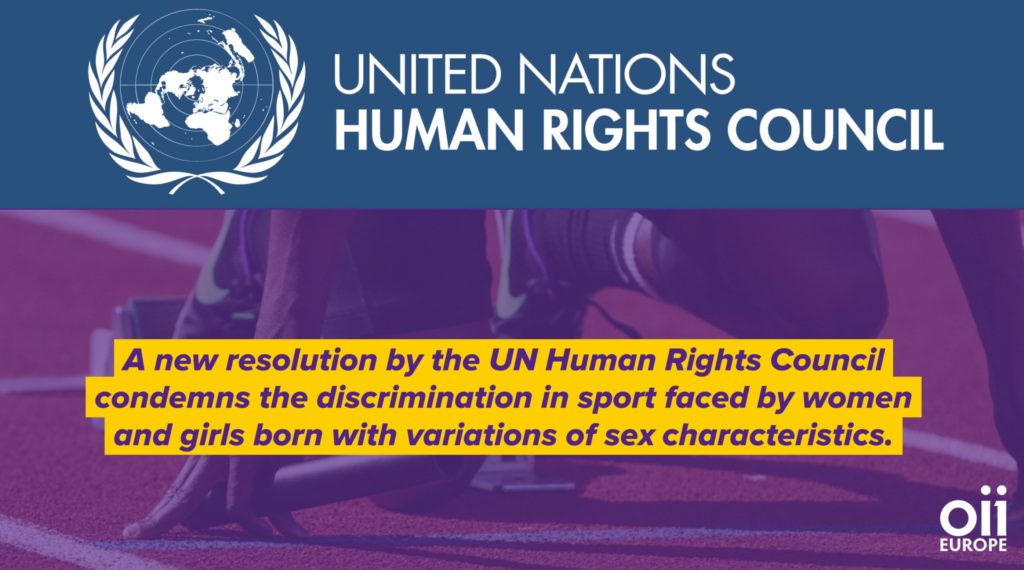 A groundbreaking resolution has been adopted by the UN Human Rights Council on the elimination of discrimination against women and girls in sport. For the first time it notes with concern the discrimination faced by women and girls born with variations of sex characteristics. It also recognizes that sport regulations and practices can reinforce harmful gender stereotypes, racism, sexism and stigma, and infringe upon the dignity, privacy, bodily integrity and bodily autonomy of women and girls, including those who are born with "differences of sex development".
With its' resolution the UN Human Rights Council adds a human rights perspective and gives support to the current case of Caster Semenya against the regulations by the International Association of Athletics Federations (IAAF) and her rights to participate in sport. The IAAF wants to require women with naturally elevated testosterone to lower their levels by medication before being allowed to compete.
The UN Human Rights Council is calling upon states to "ensure that sporting associations and bodies implement policies and practices in accordance with international human rights norms and standards, and refrain from developing and enforcing policies and practices that force, coerce or otherwise pressure women and girl athletes into undergoing unnecessary, humiliating and harmful medical procedures in order to participate in women's events in competitive sports,and to repeal rules, policies and practices that negate their rights to bodily integrity and autonomy".