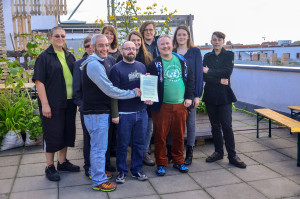 Il 25 Settembre 2015 OII Europe ha fatto l'importante passo di registrarsi come ONG no-profit a Berlino.
OII Europe (Organizzazione Internazionale Intersex Europa), come organizzazione non registrata, ha sostenuto e difeso i diritti umani delle persone intersex in Europa dal 2012, quando è stata ufficialmente fondata come organizzazione ombrello nella Giornata Mondiale dei Diritti Umani, il 10 dicembre, durante il Secondo Forum Internazionale Intersex a Stoccolma.
La registrazione come ONG no-profit permetterà a OII Europe di mettere in atto tutti quei proveddimenti legali necessari per assicurare trasparenza, affidabilità e sostenibilità per l'associazione, le sue componenti, le/gli stakeholders e finanziatori.
"Questo è un passo molto importante per l'organizzazione", ha detto Dan Christian Ghattas, co-presidente di OII Europa. "Tutti noi abbiamo lavorato per questo momento da molto tempo ormai. OII Europa si batte dal 2012, a livello europeo e internazionale, per il miglioramento del rispetto dei diritti umani delle persone intersex in Europa. La registrazione significa per noi non solo essere un'organizzazione affidabile, ma anche mostrare alle persone intersex e alle organizzazioni portate avanti da persone intersex in Europa il nostro impegno come organizzazione ombrello europea".
"È importante per Intersexioni, come organizzazione nazionale, fare parte di un'organizzazione ombrello che opera a livello europeo", aggiunge Alessandro Comeni, membro del Comitato Direttivo. "Questo ci dà l'opportunità di condividere le conoscenze e scambiare strategie e approcci. Ci si può sentire molto isolati lavorando a livello nazionale, quando molti Paesi europei non sanno ancora nemmeno dell'esistenza delle persone intersex. La mia speranza per il futuro è che sempre più associazioni che lavorano per i diritti intersex con un approccio fondato sui diritti umani entrino a far parte di OII Europe. Questo migliorerà la capacità di OII Europe e dei suoi membri nel lavoro per i diritti umani intersex a livello nazionale ed europeo".
"Niente di tutto questo sarebbe stato possibile senza l'immenso supporto di ILGA-Europe e TGEU, che hanno dedicato tempo, sforzo e risorse finanziarie per facilitare la crescita di un'Organizzazione Intersex Ombrello veramente pan-europea. Dobbiamo loro immensa riconoscenza e attendiamo con impazienza una stretta cooperazione in un futuro prossimo, visto che lavoriamo fianco a fianco con il movimento LGBT europeo, rappresentando la I della sigla LGBTI. Vogliamo inoltre ringraziare ILGA-World e GATE per il loro supporto a livello internazionale", afferma Kitty Anderson, Segretaria di OII Europa.
In questa riunione ufficiale fondativa, è stato eletto un comitato esecutivo e un comitato direttivo. Il comitato esecutivo è composto dai due co-presidenti Dan Christian Ghattas (OII Germany) e Miriam J. van der Have (NNID), dal tesoriere Ins A Kromminga (OII Germany), e dalla Segretaria Kitty Anderson (Intersex Iceland).
Il comitato direttivo comprende: Alessandro Comeni (Intersexioni), Kris Günther (Genres Pluriels), Mael Le Braz (OII Francophonie), Ev Blaine Matthigack (OII Germany), Pol Naidenov (Bilitis – Intersex Project) e Kristian Ranđelović (Gayten LGBT – Intersex Project).
Additional Information:
OII Europe, the umbrella organisation of European human rights based intersex organisations was founded on Human Rights Day, 10 December, during the Second Intersex Forum at Stockholm in 2012.
OII Europe is an autonomous affiliate of Organisation Internationale des Intersexués (OII), a decentralised global network of intersex organisations, which was founded in 2003 by Curtis Hinkle in Québec and has operated since then through its national groups in every region of the world.
Photos of the Berlin-Meeting 2015
All Photos © by Julia Ehrt, TGEU