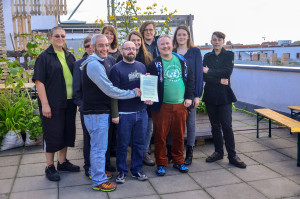 Une étape de franchie : OII Europe officiellement enregistrée comme ONG à but non lucratif en Allemagne
Le 25 septembre 2015, à Berlin, l'OII l'Europe a fait un grand pas en avant en s'enregistrant officiellement comme ONG à but non lucratif.
Depuis sa fondation au 2ème Forum International Intersexe tenu à Stockholm, le 10 Décembre 2012, jours des Droits de l'Homme, OII Europe a travaillé, en tant qu'organisation faîtière non enregistrée, à la promotion des Droits Humains des personnes intersexuées en Europe.
Cet enregistrement officiel permettra à OII Europe de mettre en place toutes les mesures juridiques nécessaires pour établir et assurer sa transparence, sa fiabilité intrinsèque, ses organisations membres, ses intervenants et ses donateurs.
« C'est une étape très importante pour l'organisation », explique Dan Christian Ghattas, Co-président de l'OII Europe. « Nous avons tous travaillé longtemps dans ce but. Depuis 2012, OII Europe a défendu et promu l'amélioration des droits humains des personnes intersexuées tant au niveau européen qu'international. Cet enregistrement signifie pour nous non seulement d'être une organisation fiable, mais montre également notre engagement à l'égard des individus Inter* ainsi qu'envers les organisations européennes qu'ils mènent, en tant qu'organisation-cadre européenne. »
« C'est important pour Intersexioni, organisation nationale, d'être membre d'une organisation faîtière européenne » ajoute Alessandro Comeni, membre du Conseil de direction. « Cela nous donne l'occasion de partager nos connaissances et d'échanger stratégies et méthodes d'approches. On peut se sentir isolé quand on travaille à un niveau national, étant donné que beaucoup de pays européens ne reconnaissent toujours pas l'existence des Intersexués. Mon espoir pour l'avenir est que de plus en plus d'organisations travaillant pour les droits humains des personnes intersexes rejoignent OII Europe. Cela augmentera la capacité de cette organisation et de ses membres de travailler pour les droits humains des Inter* tant à l'échelle nationale qu'internationale. »
« Rien de tout cela n'aurait été possible sans l'immense soutien d'ILGA-Europe et de TGEU, qui ont tous deux consacrés temps, efforts et budget pour faciliter l'expansion d'une organisation-cadre Inter* réellement paneuropéenne. Nous leur devons une immense gratitude et nous sommes impatients de concrétiser cette étroite coopération dans un avenir proche, étant coude à coude avec le mouvement LGBT européen, dans lequel nous représentons le I de LGBTI. Nous tenons également à remercier l'ILGA-World et GATE pour leur soutien au niveau international », explique Kitty Anderson, secrétaire de l'OII Europe.
Le conseil Exécutif et le Conseil d'Administration ont été élus à l'occasion de cette réunion officielle.
Le Conseil Exécutif se compose de deux Co-Présidents: Christian Dan Ghattas (OII Allemagne) et J. Miriam van der Have (NNID), ainsi que le trésorier: Ins A Kromminga (OII Allemagne) et la secrétaire: Kitty Anderson (Intersexe Islande).
Le conseil d'Administration comprend en outre Alessandro Comeni (Intersexioni), Kris Günther (Genres Pluriels), Maël Le Braz (OII Francophonie), Ev Blaine Matthigack (OII Allemagne), Pol Naidenov (Bilitis – intersexe projet) et Kristian Randjelovic (Gayten LGBT – Projet intersexe).
Additional Information:
OII Europe, the umbrella organisation of European human rights based intersex organisations was founded on Human Rights Day, 10 December, during the Second Intersex Forum at Stockholm in 2012.
OII Europe is an autonomous affiliate of Organisation Internationale des Intersexués (OII), a decentralised global network of intersex organisations, which was founded in 2003 by Curtis Hinkle in Québec and has operated since then through its national groups in every region of the world.
Photos of the Berlin-Meeting 2015
All Photos © by Julia Ehrt, TGEU