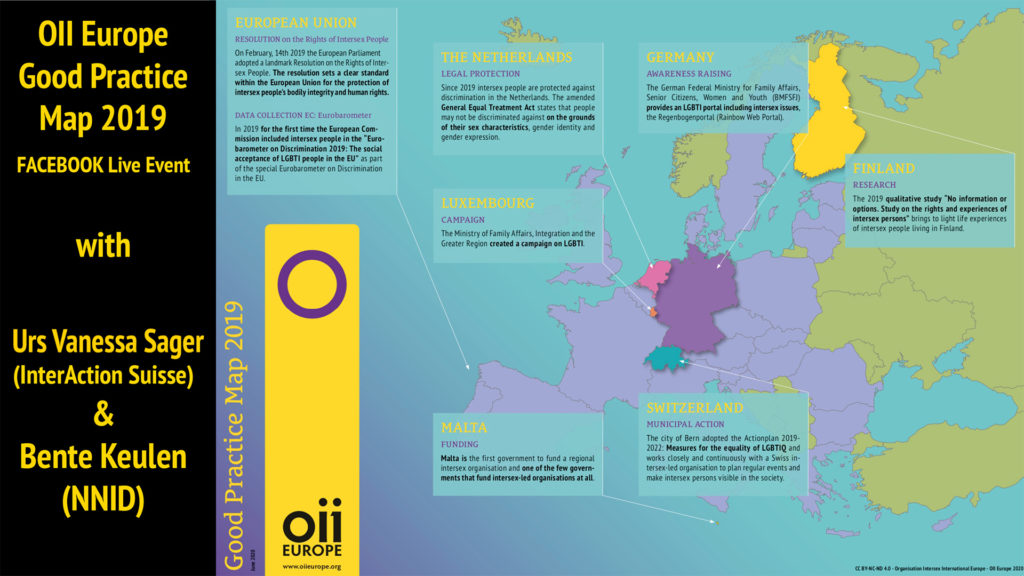 For presenting the Intersex Good Practice Map 2019 we created our first facebook live event and invited two guests to speak about the OII Europe Good Practice Map 2019!
The map features eight examples of Good Practice from the areas of resolution, data collection, research, legal protection, campaigning, awareness raising, employment and funding by national governments and municipalities and the European Commission.
Check out the following link to our #IntersexGoodPracticeMap 2019 webpage, where you can download the map as a pdf-file
https://www.oiieurope.org/good-practice-map-2019/
For the launch we invited two intersex activists to share their perspectives on the achievments of their respective countries and muncipalities that made it into the OII Europe Good Practice Map 2019:
The Netherlands and the City of Bern, Switzerland. The two speakers are Urs Vanessa Sager of InterAction Suisse https://www.inter-action-suisse.ch/ and Bente Keulen of NNID https://nnid.nl/
OII Europe Executive Director Dan Christian Ghattas gives a short overview of our current Good Practice Map and OII Europe Secretary Irene Kuzemko will moderate the event.
This video was originally streamed on our facebook page as a live video event: https://www.facebook.com/oiieurope/
Please visit our websites: OII Europe: https://www.oiieurope.org/ (this page)
OII Europe multilingual community resource page: https://www.intervisibility.eu/
#MyIntersexStory (Testimonies of intersex people living in Europe): https://myintersexstory.oiieurope.org/