The first OII Europe Intersex Community Event is coming up! It's going to take place in Vienna on March 30th and 31st – inter* people from all over the continent and beyond coming together to share ideas and experiences, discuss regional differencies, identify common priorities and last but not least having great time together!
To create an impact also into Austrian society, the Community Event is followed by the Intersex Conference on April 1st – a public day with lectures, panel discussion and workshops in the prestigious Mayors House of Vienna. And of course there will be a nice little party in the evening!
More information about the public event coming up soon here: www.intersex-conference.at
---
intersex people only
Who might come?
Intersex is an umbrella term for the experience of being born with a body that does not meet the societal expectation of male or female. We are individuals born with sex characteristics that are either female and male at the same time or not quite female or male or neither female or male. Our sex characteristics and bodies are healthy variations of the human sexes.
* In German-speaking countries we also use the term inter* with an asterisk, which stands for the diversity of intersex peoples' identities, bodies and experiences.
Community Event Hotel: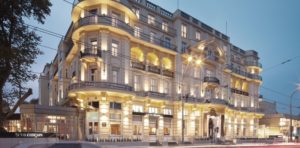 The venue for the Community Event is the Austrian Trend Hotel Parkhotel Schönbrunn, and we recommend having accommodation there for all people attending the intersex community event – Despite of how it looks this hotel was the cheapest option for us 🙂
see http://www.austria-trend.at/de/hotels/parkhotel-schonbrunn
Languages:
The Community Event is going to be held in English, the public event both German and English, with translation in these two languages as well as Austrian sign language. See the application form for additional information.
Costs for self-payers:
Accommodation: If we book the room for you we can offer a special price for
• € 58 per night incl. breakfast in a single room
• € 38,50 per night incl. breakfast in a shared double room
Community Package (including lunch, drink, snacks) 69 € per day/138 € both days
Deadline for applications:
Please make sure to apply both for the Community Event and Scholarships by January 31st !
---
Schedule 2017:

Wednesday, 29th of March:
Arrival
Thursday, 30th – Friday, 31th of March:
Community Event (intersex people only)
Saturday, 1st of April:
Intersex Conference & Party (open to the public)
Sunday, 2nd of April:
Community Event Goodbye Brunch (intersex people only) & Departure
Apply for the Community Event
To participate in the community event please fill in the form:
Scholarships
If you want to apply for one of the very limited scholarships available, also use this form.
The scholarship includes costs of travel and accommodation (including breakfast and dinners) for the community event March 30 until March 31, the participation in the public intersex conference on April 1 and the Sunday Brunch exclusively for intersex people.
Donations
Would you like to help others to attend the community event by donating?
If so, please transfer money to:
Bank Name:
Berliner Sparkasse
Account Beneficiary:
Organisation Intersex International Europe e. V.
IBAN:
DE45 1005 0000 0190 5368 29
Swift/ABA Code:
BELADEBEXXX
in the reference line please enter: "Intersex Community Event 2017 donation"