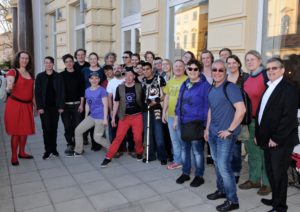 *** At the bottom of this page we have accessibility information, including for this application.***
Last year we saw 28 Intersex activists from across Europe come together in Vienna for the very first OII Europe community event. At our second Community event in Copenhagen, we will be hosted by Copenhagen Pride and Intersex Denmark during Copenhagen Winter Pride. This year as we are in the city of H.C Andersen the theme of the community event will be storytelling. This year's event like last years event in Vienna consists of a Public conference and closed community event. This year arrivals will be on the 07th of February and departures on the 11th of February.
The Public conference has been organised by Copenhagen Pride and will take place in the Danish Parliament in the historic Christiansborg Palace on Friday. There several panels covering a wide range of topics around intersex issues will be held followed by a public debate. A draft agenda and a separate registration to be able to enter the parliament building will be made available soon.
The community event itself will take place at DGI Byen next to Copenhagen main train station, Hovedbanegården. This year the event will be split between Thursday and Saturday. Over the course of these two days, we will explore storytelling in various formats. We still have a few of workshop slots that we would love to have community members themselves hold so if you have a great idea for a 90-minute workshop under the theme of storytelling, then please let us know below.
During our stay in Copenhagen, Winter Pride will also be taking place, and there will be two events on intersex issues. Copenhagen Pride has also kindly invited all Participants to the Pride Winter Ball.
We look forward to seeing you in Copenhagen in February 2018.
If you want to apply for a scholarship to OII Europes community event then our application is available here. The deadline is December 18th 2017
If you find that this format is not accessible to you then you can fill in the application in word format by downloading it here: OII Europe Scholarship application 2018
If you want to attend the community event as a self-paying participant then you can register for the event here Please register before January 05th.
*** Accessibility information ***
The Community event venue DGI Byen is an accessible hotel, and step-free access is guaranteed. If you have any other accessibility needs please let us know and we will do our best to meet them. This application form is also available in word format. If you find it helpful to fill in the application over a phone call or a skype call this can be arranged. Please email us at community@oiieurope.org
If you have other questions about the event please email us at community@oiieurope.org